Why choose Limitless Paving and Concrete for your asphalt paving?
When you partner with Limitless Paving and Concrete for your MD asphalt overlay, you get the experience, expertise, and 100% satisfaction guarantee that we bring to all of our clients. We get the job done right the first time, maintaining the highest quality standards in the industry. Our dedication to offering the best looking and most quality products is unmatched in the Baltimore, Frederick, Rockville, and Gaithersburg areas. Call Limitless Paving and Concrete today and find out if an asphalt overlay is a right solution for you.
What is an asphalt paving overlay?
An asphalt overlay is essentially a patch job for an asphalt surface. It is a new layer of asphalt (usually 1.5" to 2" thick) applied to the existing surface. When an asphalt surface is damaged, an asphalt overlay may be the solution depending on the extent of the damage. If your roadway is starting to suffer from cracks and potholing but isn't hurt enough to need a complete replacement, then an overlay may be just what you need to breathe new life into your parking lot or driveway.
However, an overlay can't fix problems in the foundation of your pavement. This type of repair is for minor cracks, fissures, and potholes in your parking lot or driveway. For more significant damage or deterioration, asphalt replacement may be necessary.
How is an asphalt overlay constructed?
While methods may vary, an asphalt overlay job will involve a machine called an asphaltic mill. This machine will shave down the top layer of your road surface so that it is small enough to allow for proper drainage and complement existing curbs and walkways.
Once the upper layers have been shaved down, any area of the pavement that has sustained more severe damage or degradation will need to be repaired to maintain the structural integrity of the pavement. This type of repair is called "base patching."
The surface is then cleaned, and an adhesive will be applied. Then the new layer of asphalt will be implemented over the current pavement. The thickness of the new overlay depends on the amount of deterioration that the existing pavement has suffered. Unusually thick overlays are also known as "structural overlays."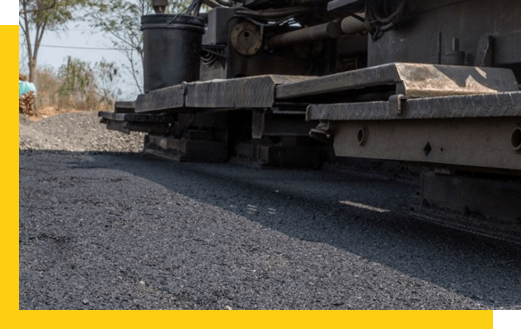 How long does an asphalt overlay last?
Depending on many factors such as weather, the frequency of use, and many other factors, an asphalt overlay can last up to 15 years. However, any cracking in the pavement will begin to reflect through to the new surface over time. How long this takes also depends on many variables such as the surrounding soils in the area. It can take six months or a few years.
How to get started?
Call Limitless Paving and Concrete Today
If you've been neglecting your parking lot or driveway maintenance, you can't afford to wait any longer. Call us today and start your comprehensive maintenance plan. Our team of talented professionals is more than happy to discuss your specific needs and answer any questions you have about asphalt and concrete maintenance.
Take advantage of our 100% satisfaction guarantee, and rest assured that you will enjoy fresh and appealing pavement for your home or business for many years to come.
Q: Why should I choose asphalt paving over other choices?

A: Asphalt is historically known as an excellent paving material. Not just that, when it comes to expenses, asphalt ensures an equal of far better performance compared to most of its costlier alternatives. Asphalt paving is particularly popular among businesses because driveways and parking lots send a message to customers about their commitment to aesthetics, as well as consumer safety. Because of its superior build quality, asphalt paving does a rather commendable job protecting vehicles from potential damages.

Q: How long does an asphalt driveway or parking lot generally last?

A: Of course, the answer varies depending on a lot of factors. However, a properly installed asphalt surface built using today's state-of-the-art technologies can last up to 40 – 50 years, if not more.

Q: Is it possible to put an asphalt surface over an old concrete driveway?

A: Yes, it is possible. You can place an asphalt surface over an old concrete driveway if the concrete has not deteriorated beyond a point. Just give our in-house asphalt experts a call, and they will be at your property right away to evaluate the feasibility of covering your old concrete driveway with an asphalt surface.
There is a catch, though! Because concrete has expansion joints, any "movement" in it will reflect up through the asphalt which, in turn, might leads to cracks. No worries though! Our experts are equipped with the right technologies and know-how of getting around such minor hiccups.