Asphalt Sealcoating Services
Your parking lot is the first part of your business your customers interact with. A parking lot that looks great and allows for seamless traffic flow goes a long way toward giving your customers and visitors a great first impression.
Schedule a Free Asphalt Quote!
Is Seal Coating Right for You?
The short answer is, yes. Virtually all pavements will benefit significantly from having seal coating applied within the first year of being newly installed and every 2 to 4 years after. Without this maintenance, every year the cost of repairs will escalate, costing you more money in the long term than the relatively inexpensive seal coating.
The Benefits of Regular Sealcoating
Whether you have a small driveway or a large parking lot, your pavement is a significant investment. Having seal coating applied to your asphalt surface goes a long way in protecting that investment by extending your pavement's life. Regular seal coating will combat the detrimental effects of oil and gasoline, aging, UV damage, and water.
An asphalt seal coat is a protective coating applied to an asphalt surface. It creates a protective layer that slows down wearing, preventing water and other liquids from reaching the lower layers, as well as protecting the pavement from being damaged by sunlight. Sealcoating is a vital part of maintaining a healthy and great looking parking lot or driveway. However, it wears out in a short time. It is essential to have a fresh seal coat applied every 2 to 4 years to prevent degradation which can lead to costly repairs in the long term.
From the minute your pavement sets, it starts to degrade from exposure to air and sunlight. Anything you can do to slow this process down will extend the life of the pavement. So while some oxidation is necessary, you need to sealcoat your pavement before it goes too far.
Eventually, your pavement will become brittle and begin to crack. Sealcoating needs to be applied before the asphalt reaches this stage.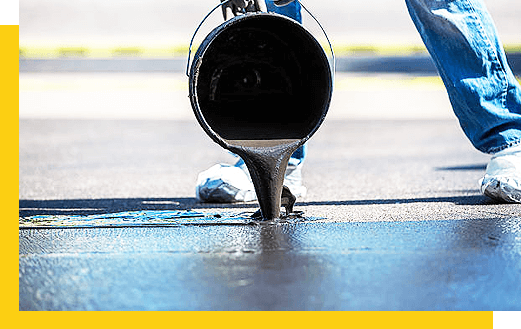 As a part of a comprehensive maintenance plan including crack filling and patching, sealcoating will help your parking lot or driveway maintain a like-new aesthetic. An appealing parking lot or driveway does wonders for improving the curb appeal of your home or business. It will contribute to keeping a darker color that will make your striping, curbing, and landscaping stand out in your neighborhood. Having pavement that looks good will make your home or business more appealing, increasing its overall value.
Why should you seal your driveway? Asphalt pavements have a "service life," meaning the condition and life expectancy tends to depend on the level of traffic incurred by the pavement, along with the weather conditions it's exposed to each year.
Preventive maintenance like sealcoating helps prolong the life of your pavement. Also, it saves you money in entirely preventable repairs down the road. Sealing pavement helps close small cracks, which would over time turn in to large fissures and cause water to seep down into the base material.
Also, the dark black color of the newly applied seal coat will help to improve the appearance of both old and new asphalt. New sealcoating will also help to preserve the resilience of asphalt surfaces and hide small cracks, rough spots, and patches. It also makes your lot's line striping more visible.
Call Today for a Free Quote
If it's been a while since you last had a sealcoat applied to your asphalt, it's never too late to enjoy the cost-saving benefits. Sealcoating is remarkably affordable and has immense benefits for your paved surfaces. Give us a call, and we'll give you a no-cost, no obligation quote in no time. Sealcoating is remarkably affordable and has immense benefits for your paved surfaces.
Q) Why should I restripe my parking lot
A) Everyone wants a long lasting, beautiful looking asphalt pavement! You'll need an effective sealant to ensure a gorgeous finish on your sidewalk or driveway. The sealer sits on top of a road and acts as the barrier that prevents car fluids, water, ice, salt, and other chemicals from damaging the surface. Why is it crucial to seal an asphalt driveway, you may ask? When water seeps into the subgrade (the base), its compromises the strength of the material. As a result, dangerous potholes can form. Also, water trapped in the cracks can freeze in the winter months and cause additional damage when it thaws. Even if you live in warmer climates, grass can grow through the cracks in the road further deteriorate it. Finally, sealing asphalt prevents damage from UV light and gas spills. Depending on your location, the frequency of applying driveway seals may differ. If you live in a cold climate, ideally you'll want to reseal about every two years.
Q) How frequently should I restripe my driveways and parking lots?
Q) Do I have to prepare the site before Limitless Paving & Concrete begins restriping it?
Q) I have design in mind. Can you provide custom line striping?
Q) Are you insured?
Q) How much notice do you generally ask for?
Call Limitless Paving & Concrete Today If you have been neglecting your parking lot or driveway maintenance, you can't afford to wait any longer. Call Limitless  Paving & Concrete today and start your comprehensive maintenance plan today. Our professional pavers are experts in providing seal coating to help protect the asphalt both from the harmful effects of chemical spills, such as gasoline and oil, and from the sun.
Get a Custom Quote For Your Asphalt Sealing Job Today
Fill out the form below today and we'll have one of our contractors come on-site for a free quote within 24-48 hours.