Is Seal Coating Right for You?
The short answer is yes. Virtually all pavements will benefit greatly from having seal coating applied within the first year of being newly installed and every 2 to 4 years after. Without this maintenance, every year the cost of repairs will escalate, costing you more money in the long term than the relatively inexpensive seal coating.
The Benefits of Regular Sealcoating
Whether you have a small driveway or large parking lot, your pavement is a significant investment. Having seal coating applied to your asphalt surface goes a long way in protecting that investment by extending your pavement's life. Regular seal coating will combat the detrimental effects of oil and gasoline, aging, UV damage, and water.
What is Sealcoating?
An asphalt seal coat is a protective coating applied to an asphalt surface. It creates a protective layer that slows down wearing, preventing water and other liquids from reaching the lower layers, as well as protecting the pavement from being damaged by sunlight. Sealcoating is a vital part of maintaining a healthy and great looking parking lot or driveway. However, it wears out in a short time. It is important to have a fresh seal coat applied every 2 to 4 years to prevent degradation which can lead to costly repairs in the long term.
Slowing Oxidation
From the minute your pavement sets, it starts to degrade from exposure to air and sunlight. Anything you can do to slow this process down will extend the life of the pavement. So while some oxidation is necessary, you need to seal coat your pavement before it goes too far. Eventually, your pavement will become brittle and begin to crack. Sealcoating needs to be applied before the asphalt reaches this stage.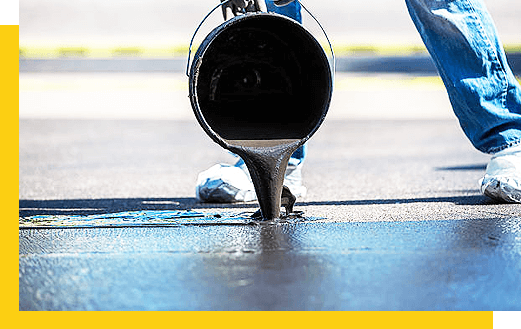 Improved Appearance
As a part of a comprehensive maintenance plan including crack filling and patching, seal coating will help your parking lot or driveway maintain an appearance of being near brand-new. An appealing parking lot or driveway does wonders for improving the curb appeal of your home or business. It will contribute to maintaining a darker color that will make your striping, curbing, and landscaping stands out in your neighborhood. Having pavement that looks good will make your home or business more appealing, increasing its overall value as well of your property investment.
Sealcoating – Frederick
Why should you seal your driveway? Because asphalt pavements only last the course of what is known as the "service life", meaning the condition and life expectancy tends to depend on the level of traffic incurred by the pavement, along with the kind of weather conditions exposed to each year. More commonly known as preventive maintenance, sealing helps prolong the life of your pavement. Also, it ensures that your driveway or paving job gives you less trouble in terms of needed repairs. As a result, you can have peace of mind, not having to worry about the next time the professionals have to come inspect and maintain your asphalt pavement! Sealing pavement helps close small cracks, which would over time turn in to large fissures and cause water to seep down into the base material. Also, the dark black color of the newly applied seal coat would also help to improve the appearance of both old and new asphalt. Which also contributes to making your driveway or parking lot look brand new! New seal coating could also help to preserve the resilience of asphalt surfaces, hiding small cracks, rough spots, and patches as well as making the traffic lines on the parking lots more visible. The main reason why so many people tend to run into trouble on the road is that they can't see the road lines clearly. But thanks to proper seal coating, drivers can feel safe and in charge as they pull into your business.
Asphalt Sealing – Step By Step
Before you decide to seal a driveway, the ground temperature must be about 40 degrees Fahrenheit. Ensure there is no rain forecasted for next three days. Preparing to seal an asphalt pavement requires a lot of preparation. Your body will need adequate protection. Cover it up properly, so your skin does not come in contact with the harmful chemicals of the sealer. Avoid inhaling vapors produced by sealants. Remove the grass at the edges of the road. With a special detergent, remove any gas or oil stains. Sweep the surface clean. Fill in the cracks with patching compound (available at home improvement centers). Allow plenty of time for the compound to dry. Follow all the instructions carefully when dealing with dangerous chemicals. In case you missed any dirt during sweeping, hose down the surface. A pressure washer would be ideal for this job! Mix the content of the tub of asphalt sealer by turning it upside down. For the sealant to remain well mixed, once you've opened the container, stir the mixture occasionally. Start applying your asphalt sealer with a long-handled squeegee. You may find it easier to work one small square section at a time. During drying time, which is at least 24 hours, the surface should not be used by vehicles or pedestrians.
How to Get Started
Call Limitless Paving & Concrete Today If you have been neglecting your parking lot or driveway maintenance, you can't afford to wait any longer. Call Limitless Paving & Concrete today and start your comprehensive maintenance plan today. Our professional pavers are experts in providing seal coating to help protect the asphalt both from the harmful effects of chemical spills, such as gasoline and oil, and from the sun.