Commercial properties, facilities, and industrial complexes across America rely on one thing to keep their logistics running smoothly: a well-executed concrete loading dock design. Loading docks allow ingoing and outgoing freight traffic to operate safely in warehouses and freight terminals, and concrete is an essential part of their construction. Having the best possible loading dock requires working with an expert concrete contractor team familiar with concrete's four key characteristics – durability, versatility, safety, and environmental impact. 
This guide will spotlight why the right loading dock matters, what the main considerations are, and what goes into successful design and construction.
Why It's Important to Have the Right Loading Dock Design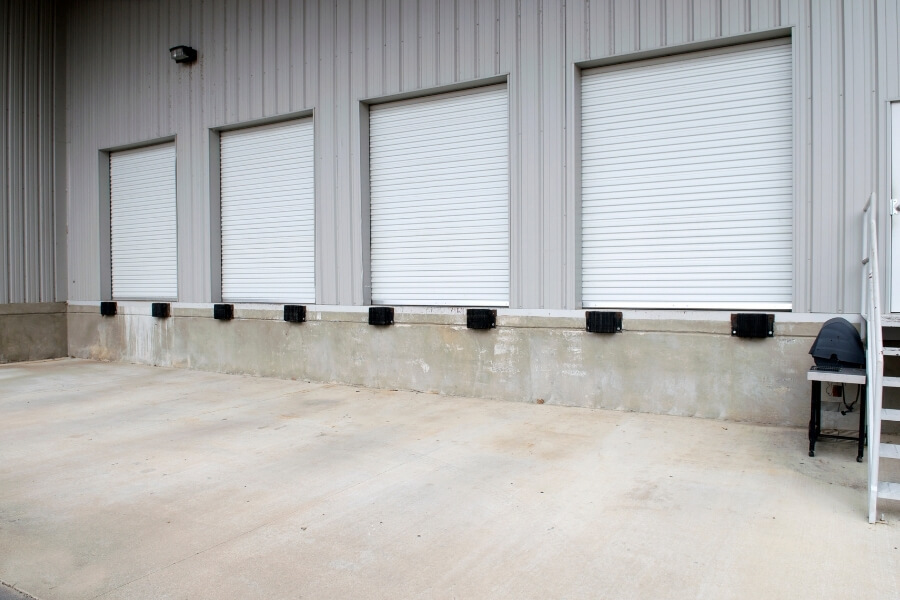 Knowing which concrete loading dock design matches your logistics requirements is the first important decision. There are many dimensional concerns in choosing the right design, such as a dock's maximum expected trailer height and width, typical freight weights (including the trailer), and how much traffic is expected over a given period.
These factors dictate how high a dock should be and other factors like the projection of shock-absorbing edge guards, or bumpers, and the gradient of the approach slope. Docks fall into five general categories to fit various logistical demands:
1. Enclosed Docks
This design allows for trucks to enter completely and for flatbeds to be accessed by overhead cranes. It is well-suited to facilities handling temperature-controlled freight, it offers protection from bad weather, and it increases the overall safety and security of loading/unloading operations, provided the space is well-ventilated.
2. Open Docks
These are increasingly rare due to several liabilities. Open docks are more vulnerable to the elements, which can damage cargo during loading and unloading. They are also more prone to theft.
3. Sawtooth Docks
These angled designs work well when dock apron space – the area required to maneuver and position trailers into place – is limited. This design requires above average indoor dimensions, thus it is often used by large-scale commercial operations.
4. Cantilever Docks
Cantilever designs project outward from the structure's main wall to create an extended docking space for vehicles. This is an effective way to reduce damage to the main structure caused by accidental vehicle impacts.
5. Flush Docks
This is a common design in which the outside building wall sits flush with the loading dock's concrete face (also called the foundation). These can save space and make loading and delivery simpler.
The steps to construct a loading dock depend on its design, but each has key considerations in common with the others. Every facility should pay attention to these shared factors before construction begins.
8 Steps to Successful Concrete Loading Dock Design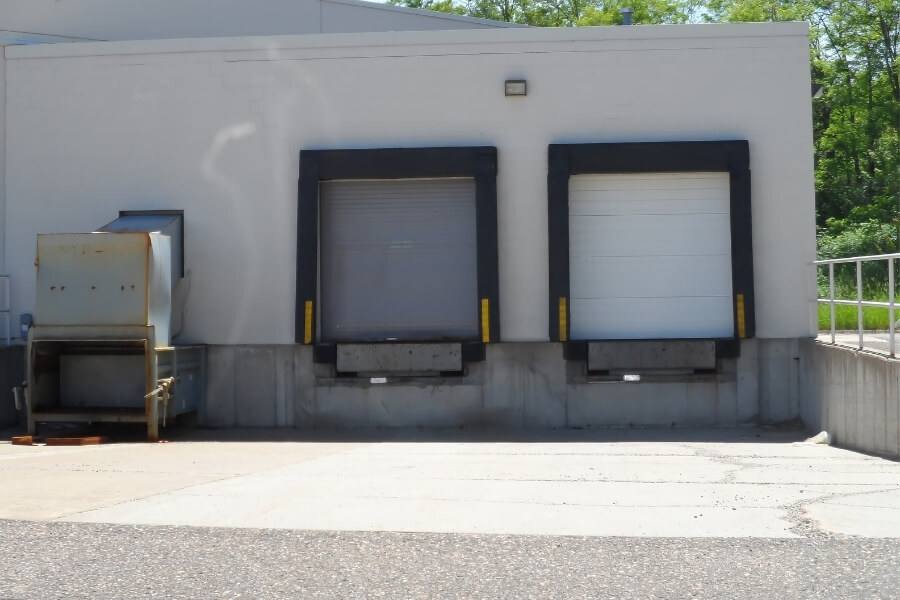 Signing off on the most suitable design activates the second stage of the process. The following list should be set in stone when it comes to constructing your chosen concrete loading dock:
1. Hire Concrete Experts
Dedicated professionals bring more than tried-and-tested expertise in concrete loading dock design and execution. They will also be fully certified and insured, and able to create a strong and durable loading dock that's perfectly designed to fit a client's individual needs.
2. Obey Local and State Construction Codes
Compliance with building codes and regulations is crucial. One reason is the need to assess environmental impact, since poorly constructed docks jeopardize staff and the surrounding ecosystem through improper drainage/runoff provisions. Regulations for local frost lines – the depth at which the ground freezes – also dictate the construction of a loading dock's footing.
3. Prioritize Location
Loading docks must be situated to optimize safety and allow maximum ease of access for freight traffic. Construction should position the dock away from areas of unrelated traffic, such as where non-loading-dock personnel operate, and far from entry and exit points for staff or visitor vehicles.
4. Construct to Avoid Common Risks
Mitigating or eliminating further safety hazards is the next priority. Trailer creep, for example, is one of the five major hazards in loading dock operation. OSHA requires that this be avoided by incorporating vehicle restraints or wheel chocks as part of all loading dock designs.
5. Illuminate Your Dock
Adequate lighting is essential to perform two key functions. First, it helps drivers fix their entry point when docking in low-light conditions, thus avoiding damage to the dock or injury to its staff. Second, well-lit docks allow for safer loading and unloading after the truck has stopped. Also, good illumination can be a great theft deterrent.
6. Protect the Dock Against the Elements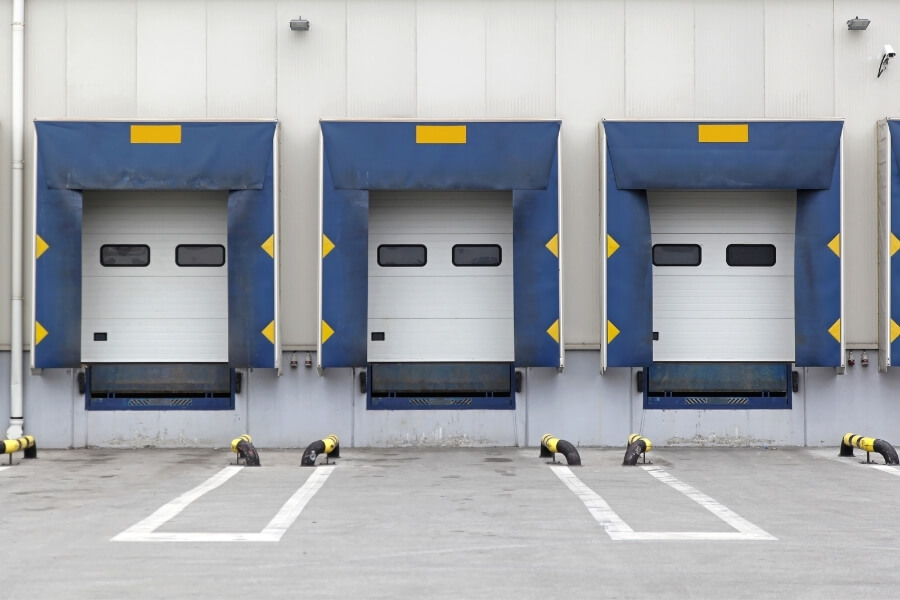 Seals and shelters provide a dock design with several benefits. Adding these can save money by preventing heat and AC loss from the edges of a dock. Further problems such as rain and snow, airborne debris, and pests like insects and rodents are all blocked when docks add shelters and seals.
7. Ventilate Your Dock Space
Enclosed docks require an effective ventilation system to ensure adequate removal of exhaust fumes while the vehicle is parked inside. This rule applies to all docking spaces, however, as each type is regularly exposed to fumes from trucks and forklifts powered by diesel, gas, and propane.
8. Build With the Future in Mind
A business doing well enough to require one loading dock could be on their way to bigger things. You may only require access for one truck at a time today, but what about tomorrow? Plan ahead with a concrete loading dock design to ensure your logistical capabilities have room to grow.
The steps above must be combined to create strong and code-compliant loading docks. Cutting corners only jeopardizes the structure and everyone who works in or around it. The necessary financial outlay today will prevent some potentially devastating results in the future.
Indicators of a Poorly Designed Loading Dock
Vehicular and structural damage, health and safety hazards, and fines leading to imprisonment are some of the risks of irresponsible concrete loading dock design. Hiring only seasoned construction experts will help you avoid such serious problems by steering you clear of the following pitfalls:
Loading docks handle heavy vehicles that don't always park on-center. Openings can receive repeated impacts over time, meaning insufficient concrete reinforcement could jeopardize a facility's structure.

Badly designed loading docks are often too short, too narrow, or incorrectly sloped, resulting in a lack of maneuverability for vehicles and an increase in potential accidents.

Failure to comply with local and state building codes will result in a Notice of Violation, a Stop Work Order, or both. These cost businesses and violators dearly in time and money and will frustrate logistics partners until the matter is rectified.

Poorly prepared building teams can grind construction to a halt by failing to secure the right permits and permissions before the physical project begins.
Ignoring the guidance above can compromise a company's productivity and safety. Each of these pitfalls can be avoided, however, when dedicated professionals handle the job. Take the time to discuss your project in detail with a team that will appreciate your unique needs and deliver a solution that fits.
Contact Limitless Paving and Concrete for Safer Dock Designs
Loading docks are an essential part of logistics and overall operational safety. You and your structure deserve the most dependable designs that will function strongly without getting in the way. The experts at Limitless Paving & Concrete can walk you through our concrete loading dock design and construction process from start to finish, so contact us for all your concrete paving, repair, and maintenance needs.