Is seal coating right for You?
The short answer is yes. Virtually all pavements will benefit greatly from having seal coating applied within the first year of being newly installed and every 2 to 4 years after. Without this maintenance, every year the cost of repairs will escalate, costing you more money in the long term than the relatively inexpensive seal coating.
The benefits of regular sealcoating
Whether it's a small driveway or large parking lot, your pavement is a significant investment. Having seal coating applied to your asphalt surface goes a long way in protecting that investment by extending your pavement's life. Regular seal coating will combat the detrimental effects of oil and gasoline, aging, UV damage, and water.
What is seal coating?

An asphalt seal coat is a protective coating applied to an asphalt surface. It creates a protective layer that slows down wearing, preventing water and other liquids from reaching the lower layers, as well as protecting the pavement from being damaged by sunlight.
Sealcoating is a vital part of maintaining a healthy and great looking parking lot or driveway. However, it wears out in a short time. It is important to have a fresh seal coat applied every 2 to 4 years to prevent degradation which can lead to costly repairs down the road.
Sealcoating is a relatively cheap way to maintain your asphalt driveway or parking lot and in the long term is the most cost effective way keep to your road healthy and visually appealing for many years.
Slowing oxidation
From the minute your pavement sets, it becomes degraded by exposure to the air and sunlight. Anything you can do to slow this process down will extend the life of the pavement. So while some oxidation is necessary, you need to seal coat your pavement before it goes too far. Eventually, your pavement will become brittle and begin to crack. Sealcoating needs to be applied before the asphalt reaches this stage.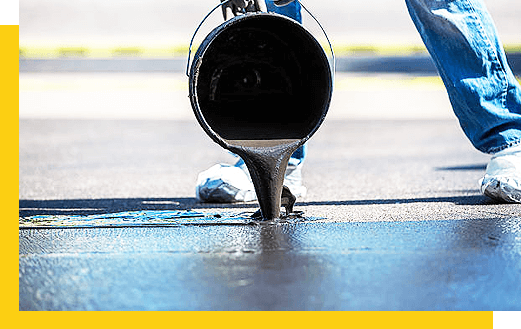 Improved appearance

As a part of a comprehensive maintenance plan including crack filling and patching, seal coating will help your parking lot or driveway maintain an appearance of being near brand-new. An appealing parking lot or driveway does wonders for improving the curb appeal of your home or business. It will contribute to maintaining a darker color that will make your striping, curbing, and landscaping stands out.
Having pavement that looks good will make your home or business more appealing, increasing its overall value as well as protecting the investment you've made in your pavement.
How to get started

Call Limitless Concrete and Paving Today
If you have been neglecting your parking lot or driveway maintenance, you can't afford to wait any longer. Call Limitless Concrete and Paving today and start your comprehensive maintenance plan. Our team of talented professionals is more than happy to discuss your specific needs and answer any questions you have about asphalt and concrete maintenance.
Take advantage of our 100% satisfaction guarantee, and rest assured that you will enjoy healthy and appealing pavement for your home or business for many years to come.
Rockville seal coating
Sealing pavement in Rockville MD, Bethesda MD, and surrounding areas
Free, no obligation quotes
Call today to discover how you can get your paving job done right.