Limitless Paving & Concrete Services in Mount Airy
Mt. Airy (301) 327-2226
At Limitless Paving & Concrete, we believe the exterior of your property should be as visually stunning as the interior! We providing beautiful finishes on all concrete and asphalt projects, whether you need parking lot repair, maintenance, or a fresh installation. No matter the size or scope of your project, we have you covered. We are proud to provide:
Parking Lot Lines Painting

Asphalt Repair & Patching

Asphalt Installation

Chip & Seal Driveway

Concrete Paving

Driveway Paving & Repair

Blacktop Asphalt

Tar & Chip Driveway

Sealcoating

Line Striping

Snow Removal
Excellence Comes from Years of Experience
As one of the top-rated in Maryland, we commit to giving you world-class pavement installations to last decades. Our dedicated team offers enthusiasm with clear and transparent communication to get the job done right. Our paving contractors come to every job with a devotion to craftsmanship and a set game plan to get tasks done on your timetable. We design all parking lots, sidewalks, driveways, and walkways with unparalleled precision and aesthetic appeal so you attract more customers. Before you get them through the door of your business, you need to get them in the parking lot! You don't want customers to turn away because of big potholes in your parking lot or a chipped/cracked walkway. Let our paving team repair your concrete or asphalt; making it smooth and safe for vehicles and pedestrians alike. As your Mt. Airy paving contractor, we manage your lot through every phase of the job. Your budget, specs, and needs are always our first considerations, which is why we always sit down and plans projects together. We are devoted to cultivating and maintaining strong client relationships built on trust and solid workmanship. When you want a paving contractor in Mt. Airy who is well-known for top quality work and customer satisfaction, get in touch with us.
Our Customers are Our Top Priority
We provide the highest-quality and affordable paving & concrete services from all around Maryland. Our work crews are committed to providing first-rate installations within your budget. Whether you need to renovate a parking lot or a hole in the sidewalk filled, we deliver 100% satisfaction – guaranteed. We offer cost-effective maintenance or repair work done to perfection. You deserve nothing less than the best! By partnering together, we can make your pavement dreams a reality.
Whether it is a Residential or Commercial Property Project, We've Got You Covered
Our Mt. Airy branch of the company works tirelessly to get every job done without delay in the most efficient way possible. We work on any residential or commercial property that needs paving or concrete work improvements, taking enormous pride in the level of workmanship our crew provides. It doesn't matter what type of paving you require; our team knows what a huge undertaking this type of work entails. We value you as a customer, and we are here for you.
Do you have a residential or commercial property project that needs to be taken care of?
Call or email us today!
A properly maintained pavement will endure through any weather conditions for years to come! So, it goes without saying that pavement maintenance projects always demand extra care and attention to details that only a qualified contractor with a healthy combination of expertise and experience can guarantee. The phrase "pavement maintenance" encompasses a number of services, such as restriping, patching potholes and cracks, and applying sealing. These services may require specifics tools and techniques unique to your pavement needs. Whether you require maintenance on your business parking lot, public garage, residential driveway, or patio, Limitless Paving & Concrete has you covered! We proudly serve all Mount Airy residents and offer a one-stop solution for all your paving needs!
Hiring a Paving Contractor
If you built your property following industry standards and proper building codes, your pavement likely does not need high maintenance. However, severe winters and natural disasters can disrupt the paving material, causing cracks. You should also apply new sealing to asphalt pavements every 2 to 3 years. You'll find do-it-yourself guides online for paving repairs, but you'll need to invest a lot of time, energy, and money into the labor. Instead, it's easier and more efficient to trust a contractor to provide you with superior quality tools and materials for getting the job done right. Limitless Paving & Concrete guarantees you the best pavement maintenance in all of Maryland! If your property is brand new, we don't recommend you undertake any major pavement maintenance for at least two years unless absolutely necessary. This will allow the grade enough time to settle and create a strong, reliable base. If a situation arises, our pavement contractors can offer you free analysis, assessment, and quotes for any needs. In this way, you'll have confidence in making an informed decision.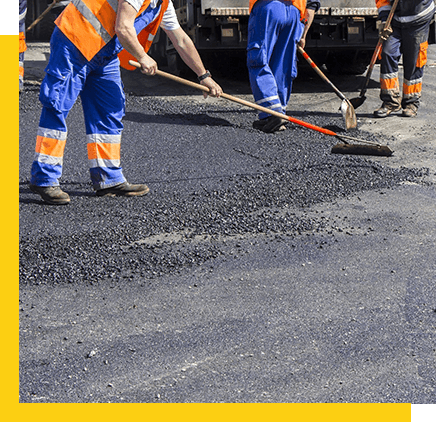 Signs You Need Pavement Maintenance
Remain vigilant and look for the following signs for when you should consult with our pavement contractors:
Fatigue cracking: Also called alligator cracking, fatigue cracking occurs if your pavement experiences heavy traffic. These are particularly common in asphalt pavements with low-quality or an unbalanced amount of materials. The onset of fatigue cracks tells you that the surface has been damaged substantially and will become brittle in the near future.
Longitudinal heaving: This pavement damage occur mostly in areas where the original builders improperly compacted the asphalt. High-volume traffic can further deteriorate the inner material.
Bumps and heaves: This issue commonly occurs in extremely cold winters. Due to continuous freeze and thaw cycles, pavements – no matter how well built – begins to heave. However, the damage is significantly worse on improperly mixed and/or installed pavements. Apart from that, the evaporation of moisture on the surface can also lead to heaving.
Potholes: Potholes usually form in areas where the surface is cracking. Over time, they can grow in depth which, in turn, leads an accumulation of water. The more water the crack holds, the higher is the magnitude of the damage. The flow of traffic also further widens potholes.
Get in touch with a professional
Having handled pavement maintenance of all kinds since our founding in 2008, Limitless Paving & Concrete prides itself as the most trusted provider of pavement services in Mt. Airy, MD. Get in touch with one of our friendly experts to know more about our all-weather pavement maintenance services.
1000 E Ridgeville Blvd, Mt Airy, MD 21771
(301) 327-2226