Construction projects must be as strong as possible, and rebar can help create valuable structural support for all of them. These projects often need to last for decades, prevent hazards, and provide the support needed to expand in the future. Using the right materials is critical for ensuring you can reach those goals.
Do you know how to use rebar in construction and how its use can impact your structures? This guide will walk you through everything you need to know about the commercial building staple, including what it is, what it does, and why it's crucial for long-term strength.
What is Rebar?
Rebar is the reinforcing bar that is placed throughout concrete to provide additional strength and durability to construction. It is laid or erected before concrete slabs or walls are poured, and can be used in both the construction of driveways as well as buildings.
Types of Rebar
Rebar comes in several types:
Steel mesh, made up of steel wires that provide support to the concrete
Carbon steel
Stainless steel rebar
European, which is a carbon/steel/manganese alloy
Glass fiber reinforced polymer
Epoxy coated rebar
The type of rebar used in the construction of a given section of concrete will depend on several key factors, including the type of construction, how much strength it needs, and the overall size of the concrete slab or project.
What Does Rebar Do?
Concrete, on its own, has little tensile strength. Some facts to keep in mind:
It is strong when compressed, but it may need help resisting loads that could cause cracking under stress.
Rebar helps provide that additional support to the concrete.
If concrete is poured on a surface that is only supported at two ends, for example, it may prove weak near the center.
Rebar, made up of reinforced steel bars, can provide the additional support needed to prevent cracking and breaking — and, ultimately, failure of the concrete.
Why is Rebar Used in Concrete?
Rebar is used in concrete construction projects for many reasons. Whether you're trying to build a concrete wall or pour concrete in a driveway or parking lot, it can:
Add Strength to the Construction
Reinforced concrete is much stronger than concrete on its own. This added strength can make it possible for heavier loads to drive across a road or parking lot, for example, or enable a concrete slab to hold hundreds of cars in a parking garage.
Decrease Concrete Thickness
Floor slabs and other large sections of concrete often need to be thick to retain the strength needed under pressure. This increased thickness can also increase the cost of your concrete construction — not to mention your expenses if you later need to remove a section of it or repair potholes over time.
Reduce Cracking and Breaking
Concrete is often very brittle on its own, and its nature can cause it to crack and break over time. This changes its appearance and can undermine its strength, increasing the rate of failure. As a result, many people end up having to take up the concrete and redo it or add a concrete cover over the top, which can lead to higher overall costs.
Decrease Challenges with Climate Variations
Concrete, like many other building materials, responds to ambient temperatures by expanding and contracting. Over time, that can lead to cracking, breaking or the creation of weak spots in the concrete that can be invisible to the naked eye. A reinforcing bar can add strength to the construction and help reduce challenges with climate variations.
Rebar Applications in Commercial Buildings
Rebar is used for a variety of purposes in commercial buildings, though you may never see the bars themselves. Some of those most common rebar applications include in:
Reinforcing concrete curbs with steel can keep them standing strong long after their initial construction. You want your concrete curbs to stand up to the occasional bump or force, whether it's a few tires bumping into them over the course of the day or even a driver running over the curb entirely. Curbs can provide vital stopping points and help prevent pedestrian accidents, so you want your concrete curbs to stand the test of time.
Driveways and Parking Lots
If your business sees a great deal of traffic, especially from heavy trucks, you may need to provide extra support in your driveways and parking lots. Do you have a corridor that will need to accept heavy trucks? Rebar can help prevent concrete from compressing under their weight, providing you a more stable surface to replace less often.
When you pour the foundation of your building, you want to be sure it is strong enough to stand the test of time. Using rebar to help support it can provide a better, stronger solution than concrete alone, which means your building, too, will be more likely to stand for years. Rebar in the foundation can help the building maintain its shape and prevent cracking as it shifts or responds to temperature changes. It can also help provide a stronger foundation for a large building or factory that may see heavy use.
Retaining walls help provide a valuable barrier between soil and your business or parking lot. You want a strong retaining wall, not just one that will help hold back soil, but that will hold up even under duress — including, for example, a client or truck tapping it along the way. Rebar in the retaining wall can both make it stronger and aid in the challenges associated with temperature and climate. It can also help provide additional support as water and wind wear away at the concrete structure over its years of life.
Rebar can prove an incredibly valuable tool any time you need to pour a large slab of concrete, whether a slab on the ground, retaining wall, or large factory or parking structure. It's important to enlist the help of professionals any time you're considering using it in a structure, however, as they will know how to space that rebar, how much to use, and how to pour the concrete over it for the strongest and longest-lasting result.
Use Rebar In Your Next Construction Project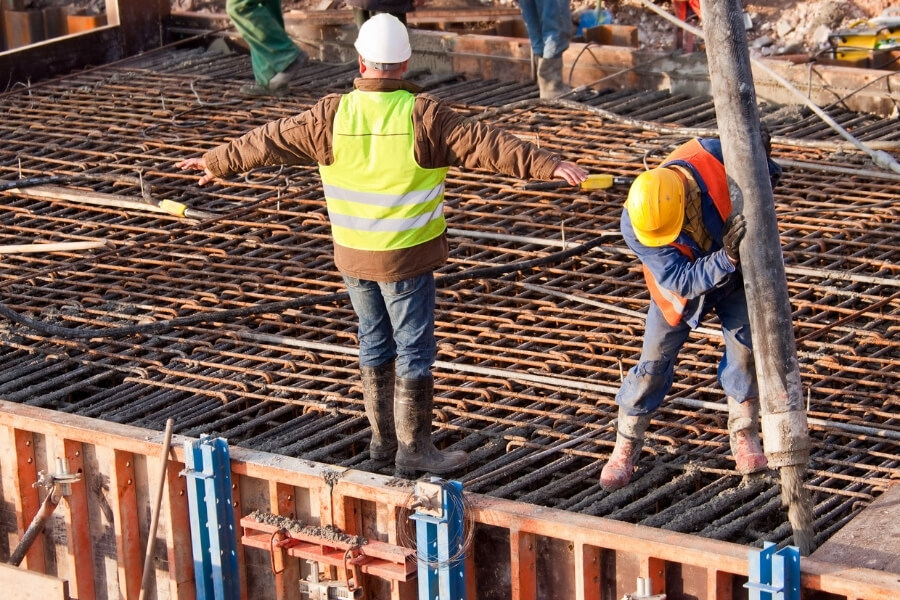 Do you have questions about the use of rebar in your concrete construction or how it can add to the integrity of your next project? Do you want to know more about the cost of rebar and what you can expect when you add it to your commercial construction project?
The team at Limitless Paving & Concrete has been handling all aspects of concrete paving — from planning and pouring to maintenance and repairs — for decades, and can't wait to speak with you about your upcoming project. Call today to speak with an expert about any rebar-related questions you might have.