If your asphalt or concrete parking lot is looking a little worn, it might be affecting your business curb appeal. You might have noticed more cracks and small potholes, but maybe didn't think there was enough damage to warrant replacing the entire surface. The good news is that existing asphalt with minor problems doesn't always equal the need for an overhaul! But, you may need to refresh it to keep it like-new for longer, saving you money in the long-haul.
Why resurface the parking lot instead of replacing it? Well, resurfacing asphalt improves the surfaces lifespan by filling cracks without replacing the entire lot (which can also get pretty pricey). This guide will help you understand what goes into the process so you can decide if it might be time to call in a professional team to fix your parking lot and impress everyone who visits.
8 Ways to Tell if Asphalt Needs Resurfacing or Replacing 
You may or may not remember what the asphalt parking lot looked like brand new, so it can be a bit tough to judge if it needs resurfacing or replacing. Here are the primary things to look for:
1. Problems with pooling water in the asphalt
If there are pools of water after every rain shower, it's time for a resurfacing. Water can cause a lot of damage to asphalt and concrete driveways.
2. Small cracks forming in the asphalt
Sometimes called "alligator cracks," these can grow into large potholes and cracks.
3. Bleach spots or faded patches
This is a sign of UV ray damage and can lead to further damage.
4. Wrapped spots & buckles
This is typically caused by ice freezing and thawing and can lead to small cracks and potholes.
5. Chemical & oil stains
Needless to say, these issues drastically reduce curb appeal, and the chemicals typically weaken the asphalt. The good news is that many of these issues are minor and easily fixed with resurfacing. However, if they are left alone, and the problems compound, you'll need to replace the entire parking lot.
6. Large cracks & potholes
These are issues that are too large to easily be filled or too numerous. Address these issues ASAP.
7. Sinkage
If you see sinkage, this is a sign of a problem with the integrity of the subfloor.
8. Undermining
Sometimes a pipe under the asphalt comes loose or breaks and undermines the paved surface. You need to replace the asphalt to fix the problem underneath.
Resurfacing Asphalt Parking Lots
We'll be upfront with you: New asphalt paving isn't a DIY project. The prep work alone for the process requires the following: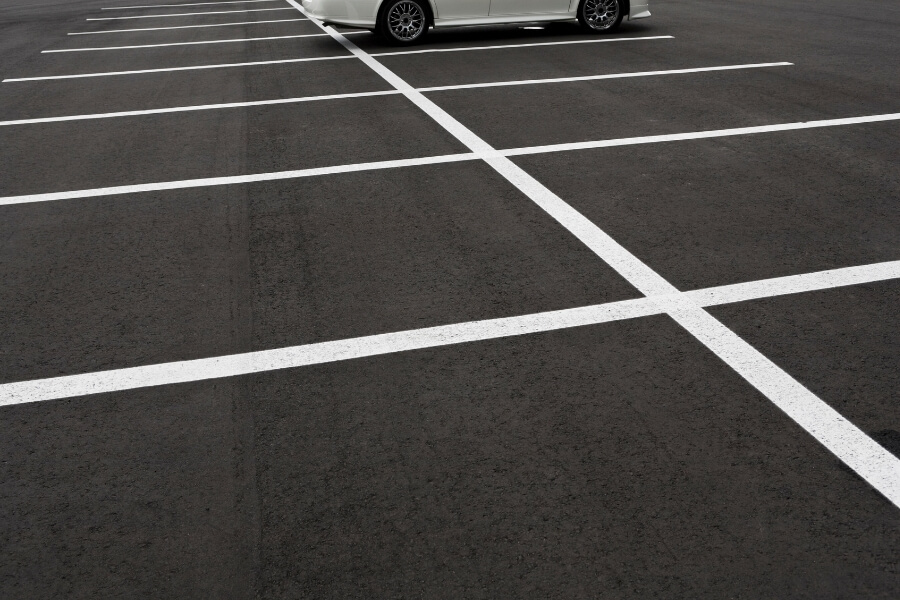 Removing the existing driveway or parking lot 
Sloping the ground for a grade that ensures rain rolls down and off the blacktop
Compacting the subfloor, or earth beneath the blacktop
Testing the subfloor with a proof roll to ensure it can handle the weight of new asphalt 
Once the prep work is done, large aggregates mixed with oil are laid down to create a binder layer for strength. A layer of small aggregate, sand, and oil make up the asphalt layer you see on your entire parking lot. Finally, butt joints and transitions are added for transitioning to other existing surfaces and a roller truck smoothes it out. 
Resurfacing is a lot less work, although you still might not want to go the DIY route. Here's how you'll know it's time to resurface your asphalt surface:
There are a few large cracks in the blacktop.
You see oil stains or places where oil once pooled.
You're noticing small potholes or crackling along the edges of the surface.
The process involves applying a new layer of asphalt over the existing parking lot to get a new smooth, shiny black surface without replacing it. This top layer of new asphalt can return a parking lot to its previous look and improve curb appeal. 
6 Steps Involved in Asphalt Resurfacing
According to the paving contractors at Eagle Paving, If the asphalt driveway surface isn't too damaged or just has small cracks, it's a good idea to keep the existing structure and invest in resurfacing. Here are the steps involved:
Preparation
Before the resurfacing begins, the blacktop or parking lot must be a blank canvas. Any structures like wheelchair ramps or concrete speed bumps must be demolished or removed, and structures for utility companies' wires or pipes must be addressed.

Asphalt milling
This step is also done ahead of the actual driveway resurfacing, and involves removing the top layer of the asphalt surface to create space for new material. It takes about a day for this step. You need to notify anyone who normally parks in the parking lot or uses the driveway, and you shouldn't allow parking again until after the job is done. Any utility company consideration will also need to be adjusted again.

Repair the pavement
Once the top layer of asphalt is gone, you may need to repair the pavement underneath or undertake further milling to smooth out any rough spots and make the surface even. Crack filler is applied and small repairs take place. Small cracks and potholes are filled and smoothed out using a trowel and other tools.

Asphalt resurfacing
This step is done in multiple layers with a leaf blower, squeegee, and heavy machinery. The first layer applied is sticky, and it's referred to as the tack coat. The tack coat helps the asphalt affix to the layer below. Next, a layer of asphalt is laid down and requires a paver and roller truck to apply. You'll need to wait for this to dry before moving on.

Sealing
The top layer of your new asphalt surface is shiny and new, but it's also unprotected from the elements. You might consider applying a sealcoat at this point to protect your investment.

Repainting and relining
Any lines for parking spaces, traffic patterns, ADA compliance, walkways, or other driveway or parking lot markings will need to be repainted once your sealcoat has dried.
Resurfacing your asphalt parking lot can save a lot of money and hassle, but it's detailed, time-consuming work that requires specialized machinery. This is a process where hiring a team of paving professionals will really ensure the job gets completed correctly.
There are times when you need to replace an asphalt surface. Resurfacing a parking lot is a lot more cost-effective than replacing, but you need to know the signs to make a decision between the two options. Are you wondering if it's time to replace or resurface your pavement? Contact Limitless Paving & Concrete today to speak with an expert paving contractor about any asphalt questions you might have, or to set up a consultation.