Choose Maryland's Best Paving & Concrete Company for Your Asphalt Projects
Our Commercial Services in Frederick, Maryland
Your business depends on customers' loyalty which involves seeing them regularly come to your property to buy your services or products. Your customers, on the other hand, expect a smooth experience which begins with the parking lot. Potholes, cracks, or any other damages in the pavement will reduce the volume of your customer base as many get frustrated dealing with its roughness and unevenness.
The best solution is to hire a commercial paving contractor. But that is not an easy task.
When you hire one, you must consider:
✔ The contractor's ability to handle the scope of the project
✔ The success of the contractor's previous commercial projects
✔ The timeline in which the project can be complete
✔ The quality work that ensures the pavement's longevity
For a long-lasting pavement, you need to hire a paving contractor who stays on the leading edge of pavement practices, including staying up-to-date on drainage, land evaluation, and value engineering.
With a long list of successful projects in the Maryland area, Limitless Paving & Concrete we are familiar with best local practices and regulations and can ensure sustainable and long-lasting pavements.
Our compressive knowledge and ongoing education allow us to provide a superior product for every job.
When you partner with Limitless Paving & Concrete for your asphalt projects, you get a team of professionals with years of dedicated experience and expertise with a 100% satisfaction guarantee. We get the job done right – the first time – by maintaining the highest quality standards in the field. We are unrivaled in our Our commitment to providing you the most beautiful pavement with the best grade materials available. Call Limitless Paving & Concrete today and find out if an asphalt overlay is a right solution for you. We'll even provide you a free estimate and inspection.
Qualities of a Reliable Asphalt Installation Project
To ensure your driveway or parking lot lasts for years to come, we inspect for three elements:
Subgrade preparation
Pavement thickness design
Drainage
If any of these are constructed below the standards, you won't want to drive on the pavement as it could damage your tires. First, we'll work to remove any old, degraded asphalt. Then we'll refill your subgrade with new asphalt and level it. Any weak or uneven parts can result in damage from weather and climate changes. It's important that your lot has a good drainage to slope off rainwater and prevent. Otherwise, water can seep into the subgrade and weaken the base material, especially during winter as ice expands cracks. Be sure to have your asphalt inspected for service every 2-3 years.
If any of these are constructed below the standards, you won't want to drive on the pavement as it could damage your tires. First, we'll work to remove any old, degraded asphalt. Then we'll refill your subgrade with new asphalt and level it. Any weak or uneven parts can result in damage from weather and climate changes. It's important that your lot has a good drainage to slope off rainwater and prevent. Otherwise, water can seep into the subgrade and weaken the base material, especially during winter as ice expands cracks. Be sure to have your asphalt inspected for service every 2-3 years.
21st Century Asphalt Paving
At the beginning of the 20th century, people mixed hot asphalt by manually using hand and shovel. By the 1930s, contractors introduced powerful mechanical or hydraulic pump machines equip with screeds (devices to level the asphalt). Now, we've adopted the latest in electrically powered equipment that adapts precise digital measurements to spread and smooth asphalt promptly and efficiently! Our tools, skills, and expertise, more than qualify us to give provide you the most appealing, safe, and accessible pavements! The right technology helps, but it's really our professionalism that makes a world of difference. We only employ the highest skilled workers and train them rigorously to meet industry standards in laying asphalt. With years of experience and success to back us, we promise you a quality job on any project.
What is an Asphalt Paving Overlay?
An asphalt overlay is essentially a patch job done by applying a new layer (usually 1.5" to 2" thick) over existing surface. When weather or simple wear and tear damage an asphalt surface, an overlay might be your best solution to prevent further damage. If your roadway is starting to suffer from cracks and potholes, then an overlay could be a good way to extend the life of the pavement without paying for a completely new installation. However, an overlay can't fix problems in the foundation of your pavement. This type of repair is for minor cracks, fissures, and potholes in your parking lot or driveway. For more significant damage or deterioration, you'll want to invest in an asphalt replacement. Why asphalt? Most paving projects in the United States are completed with asphalt, simply because its value is unmatched by other materials in terms of costs, safety, and durability. Plus, it's 100% recyclable, making it the most environmentally friendly choice. When you take asphalt's many benefits into consideration, it's easy to see why it's the best choice for a variety of surfacing projects. From driveways to highways, there isn't much that asphalt can't do.
How Do Asphalt Overlays Work?
While methods may vary, we'll probably employ the use of a machine called an asphaltic mill, which will shave down the top layer of your road surface. This process will allow us to prepare for proper drainage. Once we clean off the upper layers, we'll then start repairing the structural integrity of the subgrade, a process known as "base patching". We'll apply the new adhesive and clean the surface. The thickness of the new overlay (known as"structural overlays") depends on the amount of deterioration that the existing pavement has suffered.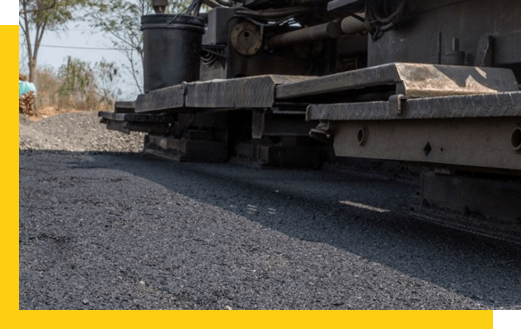 How long does an asphalt overlay last?
If you get an asphalt overlay installed properly, it can last up to 15 years. However, any cracking in the pavement, if you don't patch them quickly, can cut the lifespan in half! The surrounding soil, climate conditions, and state of decay all a factor in the costs and length of the installation. Be sure to give us a quick call for a free and honest estimate based on your needs.
Smooth your Pavement with Asphalt Milling & Overlay
The process of asphalt milling consists of removing the top surface layer without disturbing the sublayers. The removal allows for a new smoother pavement to be laid on top, especially if the old surface is uneven with some parts leveled higher than the others.
Getting an asphalt milling & overlay on your pavement enhances its aesthetics, and promises a safe and comfortable drive. Additionally, it is environmentally safe and cost-effective since the milled asphalt is recycled and reused for future overlays.
If you think your pavement needs milling, call us for a consultation. We have the expertise to give you the right answer.
Asphalt Pavements for Homeowners in Frederick, Maryland
Asphalt is an effective material for driveways. It is durable enough to handle heavy traffic load; It's reliable, and – if properly maintained – a well-constructed pavement can last more than ten years.
Asphalt paving is not only affordable but also easily maintainable. Any damage such as small cracks, potholes can be repaired quickly and with little cost. For even more protection, sealcoating should be applied every two to four years.
Asphalt allows homeowner's the flexibility to maintain the driveway well after its installation.
What Are The Benefits of an Asphalt Pavement For My Business?
Asphalt's fast installation time and affordable maintenance will save time and money in the long run. It cures incredibly fast, which means you will be back to business as usual in no time at all. And, because Frederick is one of the fastest-growing areas in Maryland, the last thing you want is to get stuck behind the times waiting for your pavement to cure. An attractive, well-paved driveway or parking lot is one of the first things potential customers and guests will notice about your office space. It speaks volumes about your attention to detail and the level of care you will provide to your visitors. Not to mention, well-maintained parking lots will provide safety to drivers. You should consider asphalt pavement an investment that will last for years to come.
How to get started?
If you've been neglecting your parking lot or driveway maintenance, you can't afford to wait any longer. Call us today and we'll plan out a comprehensive maintenance plan together that fits your budget. Only careful preparation, design, and construction will ensure long-lasting, quality asphalt pavements. At Limitless Paving & Concrete we believe that it is not enough to only have the adequate technology. We offer both the essential skills and experiences to utilize the best tools available. Take advantage of our 100% satisfaction guarantee, and rest assured that you will enjoy fresh and appealing pavement for your home or business for many years to come. Call for a free estimate today at (301) 327-2226!
The Difference Between Us and the Other Maryland Paving Contractors
Serving Frederick County, MD for several years, we have built a reputation for committing to our customers and our craft fully. We understand the unique needs of Maryland home and business owners and leverage our vast experience to provide the best product possible. We are not just experts in one area but have emerged as an industry leader in all things paving and concrete.
Our all-encompassing services cater to both homeowners and business owners. No matter which type of service you require, we possess the right qualifications, expertise, and tools to execute the job efficiently and exceed your expectations.
Choose Limitless Paving & Concrete for Reliable Asphalt Work in Frederick County.
You've chosen asphalt for your project, so what are your next steps? It's time to put just as much thought into selecting a Frederick paving contractor. When making an investment in your home or business, it's important to choose a reputable team with a track record of excellence.
At Limitless Pavement & Concrete, we take pride in the outstanding service our team provides for every job. Customer service is our ultimate goal, and we will go to great lengths to ensure that you end up with a high-quality, long-lasting product. Our crews have the most field experience of anyone and the best work ethic around to complete your project on your schedule in your budget!
Q: Why should I choose asphalt paving over other choices?

A: Asphalt is historically known as an excellent paving material. Not just that, when it comes to expenses, asphalt ensures an equal of far better performance compared to most of its costlier alternatives. Asphalt paving is particularly popular among businesses because driveways and parking lots send a message to customers about their commitment to aesthetics, as well as consumer safety. Because of its superior build quality, asphalt paving does a rather commendable job protecting vehicles from potential damages.

Q: How long does an asphalt driveway or parking lot generally last?

A: Of course, the answer varies depending on a lot of factors. However, a properly installed asphalt surface built using today's state-of-the-art technologies can last up to 40 – 50 years, if not more.

Q: Is it possible to put an asphalt surface over an old concrete driveway?

A: Yes, it is possible. You can place an asphalt surface over an old concrete driveway if the concrete has not deteriorated beyond a point. Just give our in-house asphalt experts a call, and they will be at your property right away to evaluate the feasibility of covering your old concrete driveway with an asphalt surface. Carefully though! Because concrete has expansion joints, any "movement" in it will reflect up through the asphalt which, in turn, might leads to cracks. Our experts are equipped with the right technologies and know-how to safely install the material you need.

Q) What makes asphalt pavements ideal for my paving needs?

A) If you are a business with daily visitors to your establishment, the condition of your parking lot and driveways sends a message to customers. The same goes for the average household wanting to ensure that their vehicles are not damaged from any crack or pothole on the driving surface. Asphalt is widely known for its reliability and durability as a paving material. In addition, asphalt is relatively affordable too, meaning it is unlikely to leave a dent on your budget.

Q) How long can I expect an asphalt driveway or parking lot last?

A) With adequate installation and high-quality material, you can expect your asphalt installation to last at least 30 years or more. Throw in some timely maintenance and the durability can go up by to as many as 50 years.

Q) Can you repair my existing driveway in Frederick, Maryland?

A) Yes, we can repair your asphalt driveway or parking lot. Just give our friendly representative in Frederick, Maryland, a call and they will come visit you at your property to inspect the extent of wear and tear and make an estimate of the budget.

Q) Does Limitless Paving & Concrete offer warranty on asphalt installations?

A) Yes, we offer a 12-month warranty on our asphalt paving and construction work. Get in touch with our representatives for further details.

Q) How do I decide what type of asphalt should be appropriate for my project?

A) You do not have to sweat over choosing the right asphalt at all. Product type for all paving projects is determined by one of our in-house asphalt paving experts. Get in touch with our office in Frederick, Maryland, and we will send an expert to inspect the site and figure the best match for the anticipated use.