Why choose Limitless Paving and Concrete for Your Asphalt Paving?
When you partner with Limitless Paving and Concrete for your MD asphalt overlay, you get the experience, expertise, and 100% satisfaction guarantee that we bring to all of our clients. We get the job done right the first time, maintaining the highest quality standards in the industry. Our dedication to offering the best looking and most quality products is unmatched in the Baltimore, Frederick, Rockville, and Gaithersburg areas. Call Limitless Paving and Concrete today and find out if an asphalt overlay is a right solution for you.
Qualities of a Reliable Asphalt Installation Project
To ensure your driveway or parking lot lasts for years to come, we inspect for three elements:
Subgrade preparation
Pavement thickness design
Drainage
If any of these are constructed below the standards, it may not be safe for you to drive on your lot. We'll work to remove any old, degraded asphalt. Then we'll refill the subgrade with new asphalt and level it. Any weak or uneven parts can result in damage from weather and climate changes.
If the lot has uneven thickness, it's more likely to develop potholes and cracks! Also, it may not be safe to drive over areas too dense or bumpy.
It's important that your lot has a good drainage to slope off rainwater. Otherwise, water can seep into the subgrade and weaken the base material. Many homeowners overuse their sprinkler systems and unintentionally damage their lot.
21st Century Asphalt Paving
At the beginning of the 20th century, people mixed hot asphalt by manually using hand and shovel. By the 1930s, contractors introduced powerful machines equip with screeds (devices to level the asphalt). Originally, mechanical and hydraulic mechanisms powered them and now electronic.
Now, we've adopted the latest in electric powered equipment to spread and smooth asphalt promptly and efficiently! Our tools, skills and expertise, prepare us to enrich your parking lot or driveway making it more appealing and accessible to the public!
The right technology helps, but it's really our professionalism that makes a world of difference. We only employ the highest skilled workers and train them rigorously to meet industry standards in laying asphalt. With years of experience and success to back us, we can promise you a quality job on any project.
What is an asphalt paving overlay?
An asphalt overlay is essentially a patch job for an asphalt surface. It is a new layer of asphalt (usually 1.5" to 2" thick) applied to the existing surface. When an asphalt surface is damaged, an asphalt overlay may be the solution depending on the extent of the damage. If your roadway is starting to suffer from cracks and potholing but isn't hurt enough to need a complete replacement, then an overlay may be just what you need to breathe new life into your parking lot or driveway.
However, an overlay can't fix problems in the foundation of your pavement. This type of repair is for minor cracks, fissures, and potholes in your parking lot or driveway. For more significant damage or deterioration, asphalt replacement may be necessary.
Most paving projects in the United States are completed with asphalt, simply because its value is unmatched. It has proven time and time again to be a safe, smooth, and durable choice for a variety of paving projects. It is 100% recyclable, making it the most environmentally friendly choice as well. In fact, it is the most recycled construction product in the country. When you take asphalt's many benefits into consideration, it's easy to see why it's the best choice for a variety of surfacing projects. From driveways to highways, there isn't much that asphalt can't do.
How is an asphalt overlay constructed?
While methods may vary, an asphalt overlay job will involve a machine called an asphaltic mill. This machine will shave down the top layer of your road surface so that it is small enough to allow for proper drainage and complement existing curbs and walkways.
Once the upper layers have been shaved down, any area of the pavement that has sustained more severe damage or degradation will need to be repaired to maintain the structural integrity of the pavement. This type of repair is called "base patching."
The surface is then cleaned, and an adhesive will be applied. Then the new layer of asphalt will be implemented over the current pavement. The thickness of the new overlay depends on the amount of deterioration that the existing pavement has suffered. Unusually thick overlays are also known as "structural overlays."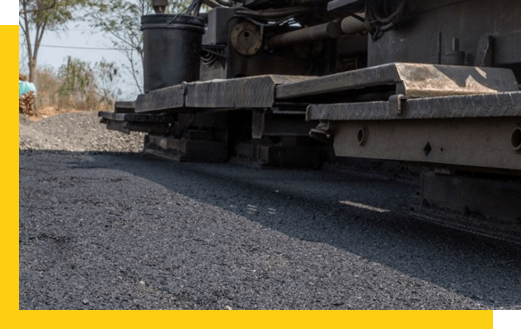 How long does an asphalt overlay last?
Depending on many factors such as weather, the frequency of use, and many other factors, an asphalt overlay can last up to 15 years. However, any cracking in the pavement will begin to reflect through to the new surface over time. How long this takes also depends on many variables such as the surrounding soils in the area. It can take six months or a few years.
How long does it take for asphalt to be installed?
Asphalt's fast installation time and affordable maintenance will save time and money in the long run. It cures incredibly fast, which means you will be back to business as usual in no time at all. And because Frederick is one of the fastest-growing areas in Maryland, the last thing you want is to get stuck behind the times waiting for your pavement to cure.
An attractive, well-paved driveway or parking lot is one of the first things potential customers and guests will notice about your property. It speaks volumes about your attention to detail and the level of care you will provide to your visitors. You should consider asphalt an investment. And, with the proper construction and maintenance, it is one that will last for years to come.
How to get started?
Assuring Adequate Asphalt Paving In Frederick MD
If you've been neglecting your parking lot or driveway maintenance, you can't afford to wait any longer. Call us today and start your comprehensive maintenance plan. Our team of talented professionals is more than happy to discuss your specific needs and answer any questions you have about asphalt and concrete maintenance.
Only careful preparation, design, and construction will ensure long lasting and versatile asphalt pavements. At Limitless Paving & Concrete we believe that it is not enough to only have an adequate technology. We offer both – essential skill and experience.
Take advantage of our 100% satisfaction guarantee, and rest assured that you will enjoy fresh and appealing pavement for your home or business for many years to come.
Call for a free estimate today at (301) 327-2226!
Choose Limitless Paving and Concrete for reliable asphalt work in Frederick County.
You've chosen asphalt for your project, so what are your next steps? It's time to put just as much thought into selecting a Frederick paving contractor. When making an investment in your home or business, it's important to choose a reputable team with a track record of excellence.
At Limitless Pavement and Concrete, we take pride in the outstanding service our team provides to the Frederick area. Customer service is our ultimate goal, and we will go to great lengths to ensure that you end up with a high-quality, long-lasting product.
We are fortunate to have the most experienced and reliable professionals on the Limitless team. Our customers receive dedicated project managers, punctual and hardworking crews, and a stress-free paving experience. Each project is completed quickly and affordably, without sacrificing quality. We have worked hard to earn the title of Maryland's most trusted paving and concrete contractors.
Q: Why should I choose asphalt paving over other choices?

A: Asphalt is historically known as an excellent paving material. Not just that, when it comes to expenses, asphalt ensures an equal of far better performance compared to most of its costlier alternatives. Asphalt paving is particularly popular among businesses because driveways and parking lots send a message to customers about their commitment to aesthetics, as well as consumer safety. Because of its superior build quality, asphalt paving does a rather commendable job protecting vehicles from potential damages.

Q: How long does an asphalt driveway or parking lot generally last?

A: Of course, the answer varies depending on a lot of factors. However, a properly installed asphalt surface built using today's state-of-the-art technologies can last up to 40 – 50 years, if not more.

Q: Is it possible to put an asphalt surface over an old concrete driveway?

A: Yes, it is possible. You can place an asphalt surface over an old concrete driveway if the concrete has not deteriorated beyond a point. Just give our in-house asphalt experts a call, and they will be at your property right away to evaluate the feasibility of covering your old concrete driveway with an asphalt surface.
There is a catch, though! Because concrete has expansion joints, any "movement" in it will reflect up through the asphalt which, in turn, might leads to cracks. No worries though! Our experts are equipped with the right technologies and know-how of getting around such minor hiccups.

Q) What makes asphalt pavements ideal for my paving needs?

A) If you are a business with daily visitors to your establishment, the condition of your parking lot and driveways sends a message to customers. The same goes for the average household wanting to ensure that their vehicles are not damaged from any crack or pothole on the driving surface. Asphalt is widely known for its reliability and durability as a paving material. In addition, asphalt is relatively affordable too, meaning it is unlikely to leave a dent on your budget.

Q) How long can I expect an asphalt driveway or parking lot last?

A) With adequate installation and high-quality material, you can expect your asphalt installation to last at least 30 years or more. Throw in some timely maintenance and the durability can go up by to as many as 50 years.

Q) Can you repair my existing driveway in Frederick, Maryland?

A) Yes, we can repair your asphalt driveway or parking lot. Just give our friendly representative in Frederick, Maryland, a call and they will come visit you at your property to inspect the extent of wear and tear and make an estimate of the budget.

Q) Does Limitless Paving and Construction offer warranty on asphalt installations?

A) Yes, we offer a 12-month warranty on our asphalt paving and construction work. Get in touch with our representatives for further details.

Q) How do I decide what type of asphalt should be appropriate for my project?

A) You do not have to sweat over choosing the right asphalt at all. Product type for all paving projects is determined by one of our in-house asphalt paving experts. Get in touch with our office in Frederick, Maryland, and we will send an expert to inspect the site and figure the best match for the anticipated use.